Yellow Thunder Amateur Radio club is a ARRL affiliated club. We welcome anyone, even if you are not a licensed radio operator, to come and visit us at one of our meetings or many events we host throughout the year.
The 2015 circus city swap-fest information is out!
Saturday August 29, 2015  8:00am to Noon
You can find more information on our swap-fest page in the events area.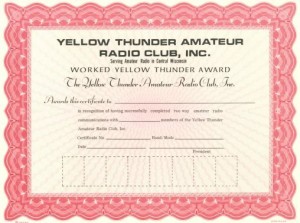 October, 1969, several Sauk and Columbia county amateurs conceived the idea of an area amateur radio club. Among the originators of the idea were: Ken Ebneter, K9GSC (then ARRL Section Manager of Wisconsin), Don Evenson, K9JYX, Harv Hamer, K9YHO and Jim Romelfanger, K9PKQ.
Read more about our history on our History Page